BA Graphic Design
Graphic design is everywhere around us. Being aware that someone shapes all those messages to communicate with us is the first step when you want to want to become "story creator" that may reach everyone. Each project is a challenge that lets us develop our ability to communicate through images, fonts, illustrations, videos... the only limit is your creativity.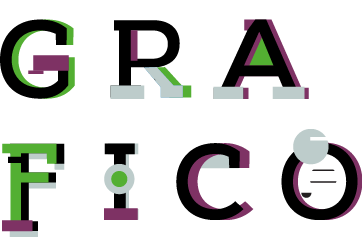 Continuous technological evolution and new media have created an enormous field of action for the graphic designer. We live in a society with a great demand and consumption of graphic and visual communication, so if you want to be part of this world, studying Graphic Design is the best option.
In Andalusia, the studies of Graphic Design have not been officially regulated until recent times. This programme is conceived to train professionals capable of devising new forms of communication thus transmitting ideas and values through the visual language.
At ESADA you can study the Official Degree of Graphic Design, this is a degree from the Ministry of Education equivalent to all effects to a University Degree. These studies are within the European Higher Education Area (EHEA) and therefore have international validity.
Our innovative methodology of Project-Based Learning (PBL) aims to bring professionals with a critical and analytical mindset, capable of developing a project from beginning to end, work in a team in a fluid way and to defend their ideas and their creations through the exhibition of their proposals. We offer a meaningful learning process; therefore, our students are able to manage their knowledge autonomously and professionally. Integrated projects are a fundamental tool because it gathers all subjects in a common purpose.
All projects have been designed so that the students acquire progressively all the necessary skills to be amazing graphic designer.
We complement our teaching at ESADA with conferences of professionals of recognized prestige in the sector and representative bodies of the cultural and mercantile sector that bring us closer to the real world of the design.
Graphic Design offers us in each project the opportunity to do something new, to define identities, to transmit sensations through colour, form or typography... to communicate an idea, a thought or a feeling
---
Subjects
1º Year
Visual Language
8 ECTS · Annual
Creativity and Project Methodology
4 ECTS · Annual
Freehand drawing: Sketches
5 ECTS · 1st Semester
Expression techniques in Design
5 ECTS · 2nd Semester
Representation systems
8 ECTS · Annual
Vectorial representation
7 ECTS · Annual
Photographic documentation
5 ECTS · Annual
History of the arts and aesthetics
4 ECTS · 1st Semester
History of Design: centuries XIX, XX and XXI
4 ECTS · 2nd Semester
Typography I: Composition
5 ECTS · 1st Semester
Typography II: From calligraphy to graffiti
5 ECTS · 2nd Semester
2º Year
Anthropometry and ergonomics
4 ECTS · 1st Semester
3D construction
5 ECTS · Annual
Scientific fundamentals applied to design
7 ECTS · Annual
Eco-design and sustainability
4 ECTS · 2nd Semester
Technical English
4 ECTS · Annual
Typography III. Design and management
8 ECTS · Annual
Material, technology and graphic production
8 ECTS · Annual
History of graphic design
4 ECTS · 1st Semester
Spanish graphich design. Andalusia
4 ECTS · 2nd Semester
Editorial design and layout
6 ECTS · 1st Semester
Visual identity design
6 ECTS · 2nd Semester
3º Year
Theory and culture of Design
6 ECTS · Annual
Design management
6 ECTS · Annual
Web Design and Development
8 ECTS · Annual
Photography Applied to Design
4 ECTS · 1st Semester
Audio-visual Media
4 ECTS · 2nd Semester
Ilustración aplicada al diseño
6 ECTS · Annual
Design applied to packaging
5 ECTS · 1st Semester
Advertising campaign
5 ECTS · 2nd Semester
Motion Graphics
8 ECTS · Annual
Optativa 1
4 ECTS · 1st Semester
Optativa 2
4 ECTS · 2nd Semester
4º Year
Introduction to animation
6 ECTS · 1st Semester
Information design
4 ECTS · 1st Semester
Interactive design
6 ECTS · 1st Semester
Spatial Graphics
5 ECTS · 1st Semester
Presentation and Project Rhetoric
3 ECTS · 1st Semester
Graphic design, innovation and business
4 ECTS · 1st Semester
Optional
8 ECTS · 1st Semester
Final Graduate Project
12 ECTS · 2nd Semester
Practicum
12 ECTS · 2nd Semester
---
Services
The students of ESADA can enjoy the services of Orientation and Guidance from the start, to focus from the beginning what their interests are and to perform internships from the second year. They will also work on their job placement as a graduate.
ESADA has an international approach, therefore a language improvement program is included within the training of students, which includes weekly classes of foreign language throughout the four years of the degree.
MENTORING
The students of ESADA are accompanied by a mentor who will accompany them through their learning process and that will help them to achieve their maximum potential.
SCHOOL OF DESIGN
ESADA is the only design school in Andalusia that offers the four design specialties (Graphic, Interiors, Product and Fashion), allowing students to develop in a multidisciplinary environment. This way students acquire a global vision of the design process and fosters them to establish collaborations that enrich their training process.
THE CITY
Studying Graphic Design in Granada has the advantage of being in contact with a vibrant and international city. In Granada you will find a unique blend of:
Historical buildings and historic environments part of the world heritage like the Alhambra or the Muslim neighbourhood.
A multicultural and international city, where you can enjoy a wide cultural offer (concerts, art museums, exhibitions, etc ...)
A privileged natural environment where you can enjoy the ski resort or the Mediterranean coast, both are half an hour away from the city.
So if you still do not know where to study graphic design ESADA is your choice!
Solicita una cita
¿Quieres información más concreta? Nuestra encargada de admisiones te informará y orientará sobre lo que necesites ¡reserva tu hora!
Solicitar una cita
---
COM_EFORMACION_PROYECTOS_NUESTROS_ALUMNOS
---
Skills
The Higher Studies of Design offer qualified training in the field of design. Our students will be capable of understanding, defining and optimizing the products and services of the design in its different domains. They will also be able to master the scientific, humanistic, technological and artistic knowledge and the methods and procedures associated with them as well as generating values of artistic, cultural, social and environmental significance, in response to the social and technological changes that are taking place.
The regulations that develop the Higher Degree of Design in the specialty of Graphic Design establishes a series of Specific Competences that the students must acquire, such as:
Generate, develop and materialise ideas, concepts and images for complex communicative programs.
Master the formal resources of expression and visual communication.
Understand and use the ability of significance graphic language.
To master the procedures of creation of communicative codes.
Establish organizational structures of information.
Interrelate formal and symbolic languages with specific functionality.
Determine and, where appropriate, create typographic solutions appropriate to the project objectives.
Know the channels that serve as support for visual communication and use them according to the communicational objectives of the project.
To analyse the behaviour of the receivers of the communicational process in function of the objectives of the project.
Apply methods of verifying communicative effectiveness.
Master the technological resources of visual communication.
Master digital technology for the treatment of images, texts and sounds.
Know the economic, social, cultural and historical context in which graphic design is developed.
Understand the legal and regulatory framework that regulates professional activity, occupational health and safety, and intellectual and industrial property.
To emphasize the positive social influence of design, to evaluate its impact on the improvement of the quality of life and the environment and its capacity to generate identity, innovation and quality in production.
---
Professional Profile
The graphic designer is a creator whose activity is to use the graphic language to generate messages and communicate content of different nature with different media and for the different communication channels. The main areas where it develops its activity are:
Corporate and visual identity
Editorial design
Graphic production
Design of containers and packaging
Art direction in advertising
Audio-visual design
Graphics on television
Multimedia design
Interaction design, web design
Environmental: graphic and communications applied to space
Design of didactic material
Research and teaching
---
Access
ESADA, being a private centre, is not in charge of conducting access tests; this is the responsibility of the Ministry of Education of the Junta de Andalucía.
For each call, June and September, the School will prepare a course to meet the needs to access these studies.
The access tests are divided in three different exercises. The first two develop during the first day of the call for tests and the third during the second day. Exercise 1 has a value on the final grade of 50% while the remaining two add up to 25% each, without having to approve the three parts to pass the exam.
---
Academic Fees and Scholarships
As students of an official degree, you have the right to apply for the scholarships of the Ministry of Education for post-compulsory studies, as well as those of the Regional Ministry of Education (ADRIANO).
Being studies within the European Space of Higher Education, it is possible to choose the Erasmus + Scholarships both to study abroad and to do international internships.
---
Contact
Please fill in your details and we will contact you as soon as possible.