Official Master in Videogame Design
Train yourself with the best professionals in the videogame sector.

With this Official Master's Degree in Videogame Design, you will be trained in the main skills through the work in applied projects, backed by experienced professionals in the industry. You will improve your interdisciplinary communication and collaboration skills through teamwork with students and professionals from other areas of videogame development.
ESADA's Master's Degree in videogame creation is the first official master on this subject taught in Andalusia. It is an opportunity to apply technologies and development practices in their own projects under the guidance and mentoring of professionals in the industry who will train you in professional skills and relevant knowledge in order to practice a certain role within a development study or even train your own.
The objective of the Official Master's Degree in Videogame Design is to turn graduates into qualified professionals, placing them in development teams, with visible objectives and results in relevant projects to the industry.
The Final Project of the Master will consist of the development of a videogame as a complete product with the support of students from other degrees: Graphic Design and Product Design.
María Fornieles Cid

Técnica superior en Gráfica publicitaria, marketing consultant para distintos estudios de desarrollo, directora del programa Con Ciencia y Letra, autora del libro Marketing para Imbéciles

Francisco Manuel Gómez Campos

Profesor titular de universidad de Granada en el Departamento de Electrónica y Tecnología de los Computadores, Blender Foundation Certified Trainer.

Alfonso Jurado Mesa

Fundador y Desarrollador en Estudio Nemo, programador de aplicaciones senior en Orion Network Communication.

Carlos López Hernando

Cofundador, Lead Game Designer, Escritor en Risin' Goat.

Arturo Monedero Álvaro

Socio Fundador y Director Creativo de Delirium Studios

Imanol Pradros Mantas

Dirección y gerencia de empresas tecnológicas, desarrollo y programación de videojuegos y aplicaciones.

Alberto Rico Zambrana

Co-fundador del estudio Rodaja, director artístico y game designer

Olga Ruano Yeguas

Diseño gráfico para vestuario en series internacionales para NETFLIX. Diseñadora web y gráfico en el Centro de Enseñanzas Virtuales de la Universidad de Granada.

Fernando Ruiz Calderón

Fundador y Desarrollador en Massive Fun 3D,desarrollador juegos y aplicaciones en Unity3D en Astronauts Consulting.

Lorena Ruiz Lopez

Fundadora y Directora de Arte en Estudio Nemo.
---
Subjects
Master's Thesis
20 ECTS · 2nd Semester
Historia y evolución del videojuego
4 ECTS · Annual
Técnicas y entornos de desarrollo
2 ECTS · Annual
Claves para el diseño 2D
4 ECTS · Annual
Creación y animación 2D para videojuegos
2 ECTS · Annual
Creación de personajes y entornos 3D
5 ECTS · Annual
Animación 3D
3 ECTS · Annual
Teoría Acústica
2 ECTS · Annual
Diseño sonoro técnico
2 ECTS · Annual
El lenguaje de programación C#
3 ECTS · Annual
Unity y su entorno
5 ECTS · Annual
Programación de videojuegos 2D/3D
3 ECTS · Annual
Algorítimica
2 ECTS · Annual
Innovación, marketing y comunicación
3 ECTS · Annual
---
Services
ESADA students will be able to enjoy the Labor Orientation services since the start of their Master's Degree, to focus from the beginning their interests and facilitate their labor insertion once their training ends.
DESIGN SCHOOL

ESADA is the only design school in Andalusia that teaches the four specialties in design (Graphic, Interior, Product and Fashion), which allow students to develop in a multidisciplinary environment in which students acquire a global vision of the design process and that allows them to establish collaborations that enrich their training.
THE CITY
Studying design in Granada has the advantage of being in contact with a vibrant and international city. In Granada you will find an unique mixture of:
Historic buildings and world heritage places like the Alhambra or Albaicín.
A multicultural and international city, where you will be able to enjoy a wide cultural offer (concerts, art museums, exhibitions, etc).
A privileged natural environment in where you can enjoy the ski resort or the mediterranean coast just a half hour from the city.
So if you still don't know where to study Videogame Design… ESADA is your option!
Solicita una cita
¿Quieres información más concreta? Nuestra encargada de admisiones te informará y orientará sobre lo que necesites ¡reserva tu hora!
Solicitar una cita
---
COM_EFORMACION_PROYECTOS_NUESTROS_ALUMNOS
---
Skills
In order to achieve the educational objectives that we set, we will provide the student a quality teaching and learning environment, with different methods focused on the acquisition of different types of learning that lead, not only to the acquisition of different skills, but also make them achieve attitude and values.
Conceptualization and evaluation of the person-machine interaction of products, systems, applications and computer services in the field of videogames.
Full management and planning of softaware projects and use of design methodologies, as well as planning and modeling tools.
Knowledge and understanding of the organization and roles that form a video games company. Information management, the one obtained in the master's dregree as well as oneself autonomy to execute those roles.
Ability to generate and analyze expressive and narrative resources applied to audiovisual discourses, with special emphasis in multimedia, hypermedia and video games.
Ability to make the artistic aspecto of the game, create characters and atmospheres in 2D and 3D, as well as its subsequent animation.
Understanding and knowledge of the basic concepts about the general laws of the classic mechanics of video games and their application in the resolution of problems related to their development.
Knowledge of the structure, organization, functioning and interconnection of computer systems, their programming basis and their application in the resolution of problems related to the video games development. Recognize the operating system function and the development kits for mobile devices and video games platforms.
You will have the ability to understand the video game within a context at the time of its design and, also, you will know how to choose the best strategy for its creation keeping in mind all the elements involved in the process.
Ability to design and evaluate person-device interfaces that guarantee the accessibility and usability to the computer systems, services and applications.
You will be able to apply development principles and methods to model, design and develop applications, intelligence systems and knowledge-based systems.
You will handle the basic principles of sound production in the field of video games and have a good command of professional tools related to it.
---
Access
This Master's Degree in Video Games Design is based on the fundamentals of video games design, programming, art, resource management and marketing so the profile of the students are Graduates in the following degrees: Computer Science, Telecommunications, Mathematics or Physics, Fine Arts, Graphic Design, Visual Communication Design and Product Design. Also profiles related to the creation and design of graphic material, professionals who want to specialize in the field of video games and interactive digital leisure…
---
Academic Fees and Scholarships
The fees include the amount for the reservation spot and, where appropiate, the training complements course.
Those who do not meet the requirements may take the Master on their own. In that case, the Master's fees have a cost of 3500€ and, after completing the training, they will obtain a certificate issued by the school.
As students of an official degree, you will have the opportunity to apply for scholarships given by the Ministry of Education for post-compulsory Master's Degree studies.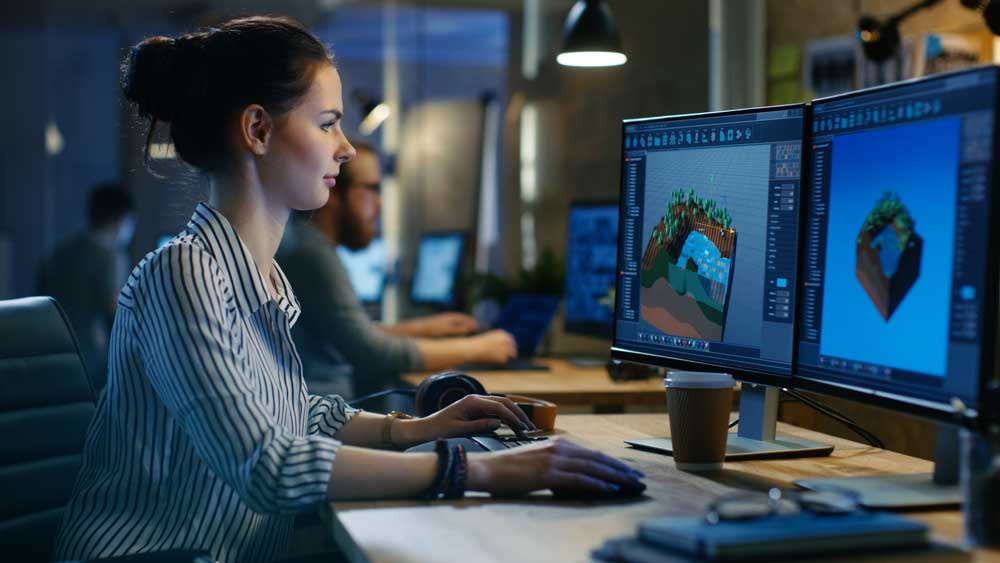 ---
Contact
Please fill in your details and we will contact you as soon as possible.