Outgoing Students
ERASMUS+
INTERNATIONAL STUDIES MOBILITIES
Studying and working abroad is actively promoted in ESADA and opportunities increase thanks to exchange programmes with our extensive European and international network of partner universities.
Therefore, students of ESADA will have the opportunity to make Erasmus+ exchanges from the second year, during a semester and a maximum of 12 months throughout their studies, with higher education institutions with which there is a bilateral agreement.
List of associated institutions
INTERNATIONAL TRAINEESHIP (WORK PLACEMENT)
Students of ESADA will be able to perform mobilities of curricular internships, from the last year, in companies of another European country with which they have established by direct contact an agreement, which should fit the learning objectives of their curriculum.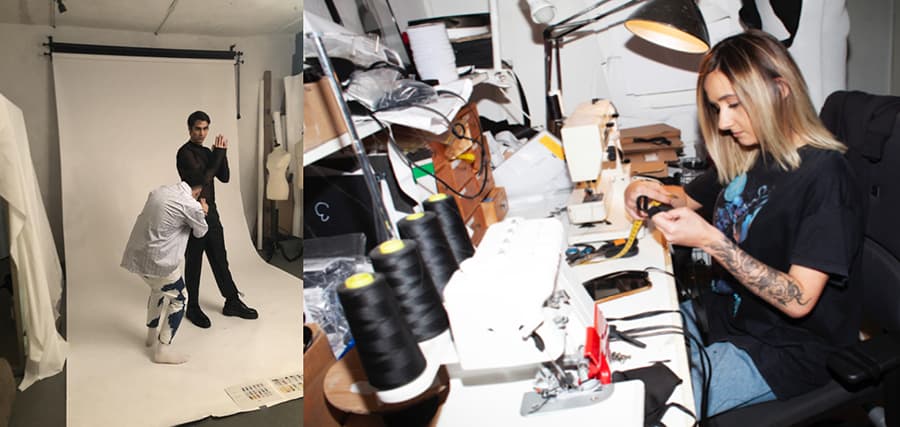 CALL FOR ERASMUS+ SCHOLARSHIPS
ESADA annually announces international mobility of studies and traineeship with Erasmus + Scholarships, where the selection scales are established, such as the average mark of the academic record and accredited language level. In general students must accomplish the following requirements:
- ESADA official students enrolled at the time of applying and who will continue their studies next year at ESADA by enrolling in a full course (60 ECTS). *
- Having passed all the subjects of the course prior to the application.
- Not having spent the maximum of twelve months in previous Erasmus+ calls (in ESADA or in another educational centre in studies and/or practical mobilities)
* Newly graduated students will also be able to realize mobilities of curricular traineeship, provided that they do them in the year after their graduation and apply for them while they are still enrolled in ESADA.
ERASMUS FINANCING
Once their mobility of studies or traineeship has been confirmed, the student will be able to apply for an that contributes to their travel and residence expenses. The scholarship can vary according to the differences in the cost of living between the countries of origin and destination, the number of students who request it, the distance between the countries, the availability of other grants and even if they are scholarship holders of MEC previous course.
This scholarship aims to be an additional contribution to the costs of mobility and is not a complete maintenance aid.
Regardless the amount the student will receive from the Erasmus+ scholarship, he/she will sign a grant agreement that will specify the duration of the mobility period, the amount of the scholarship and other rights and obligations.
As an Erasmus+ student, you will be exempt from academic, tuition and exam fees, and also right of access to laboratories and libraries at the destination institution. You may be charged, however, for insurance affiliation or student union.
Here you can see the amount per month that students may have, please check the entire document.
For any questions or queries, you can contact the at: internacional@esada.es
Erasmus+ Coordinator: Félix Guerrero
ASSOCIATED INSTITUTIONS
VILNIUS COLLEGE OF DESIGN

VILNA / VILNIUS (LITUANIA / LITHUANIA)


DISEÑO GRÁFICO, DISEÑO DE INTERIORES, DISEÑO DE MODA / GRAPHIC DESIGN, INTERIOR DESIGN, FASHION DESIGN


APPLICATION

- AUTUMN TERM: JUNE 15


- SPRING TERM: DECEMBER 1

Web
TED UNIVERSITY

ANKARA (TURQUÍA / TURKEY)





DISEÑO DE INTERIORES, DISEÑO DE PRODUCTO / INTERIOR DESIGN, PRODUCT DESIGN


APPLICATION

- AUTUMN TERM: MAY 31


- SPRING TERM: OCTOBER 30

Web
HUNGARIAN UNIVERSITY OF FINE ARTS

BUDAPEST (HUNGRÍA / HUNGARY)





DISEÑO GRÁFICO / GRAPHIC DESIGN

APPLICATION

- AUTUMN TERM: MAY 15


- SPRING TERM: OCTOBER 30

Web
HKU UNIVERSITY OF THE ARTS UTRECHT

UTRECHT (PAÍSES BAJOS / THE NETHERLANDS)





DISEÑO DE INTERIORES, DISEÑO DE MODA, DISEÑO DE PRODUCTO / INTERIOR DESIGN, FASHION DESIGN, PRODUCT DESIGN


APPLICATION

- AUTUMN TERM: APRIL 15


- SPRING TERM: OCTOBER 1

Web
ABADIR ACCADEMIA DI DESIGN E ARTI VISIVE

CATANIA (ITALIA / ITALY)





DISEÑO GRÁFICO, DISEÑO DE INTERIORES, DISEÑO DE PRODUCTO / GRAPHIC DESIGN, INTERIOR DESIGN, PRODUCT DESIGN

APPLICATION

- AUTUMN TERM: JUNE 15


- SPRING TERM: NOVEMBER 15

Web
ART & DESIGN INSTITUT

PRAGA / PRAGUE (REPÚBLICA CHECA / CZECH REPUBLIC)





DISEÑO GRÁFICO, DISEÑO DE INTERIORES / GRAPHIC DESIGN, INTERIOR DESIGN

APPLICATION

- AUTUMN TERM: AUGUST 1


- SPRING TERM: DECEMBER 1

Web
ESCOLA SUPERIOR DE ARTES E DESIGN

MATOSINHOS (PORTUGAL)




DISEÑO GRÁFICO, DISEÑO DE INTERIORES, DISEÑO DE MODA, DISEÑO DE PRODUCTO / GRAPHIC DESIGN, INTERIOR DESIGN, FASHION DESIGN, PRODUCT DESIGN

APPLICATION

- AUTUMN TERM: MAY 15


- SPRING TERM: OCTOBER 31

Web
ACCADEMIA DI BELLE ARTI DI UDINE GB TIEPOLO

UDINE (ITALIA / ITALY)





DISEÑO GRÁFICO / GRAPHIC DESIGN


APPLICATION

- AUTUMN TERM: JUNE 15


- SPRING TERM: DECEMBER 15

Web
UNIVERSITY OF ARTS IN BELGRADE

BELGRADO / BELGRADE (SERBIA)




DISEÑO GRÁFICO, DISEÑO DE INTERIORES, DISEÑO DE MODA, DISEÑO DE PRODUCTO / GRAPHIC DESIGN, INTERIOR DESIGN, FASHION DESIGN, PRODUCT DESIGN


APPLICATION

- AUTUMN TERM: MAY 15


- SPRING TERM: OCTOBER 15

Web
NEW DESIGN UNIVERSITY

SANKT PÖLTEN (AUSTRIA)




DISEÑO GRÁFICO, DISEÑO DE INTERIORES, DISEÑO DE PRODUCTO / GRAPHIC DESIGN, INTERIOR DESIGN, PRODUCT DESIGN


APPLICATION

- AUTUMN TERM: MAY 15


- SPRING TERM: NOVEMBER 30

Web
ESTONIAN ACADEMY OF ARTS

TALLIN / TALLINN (ESTONIA)




DISEÑO GRÁFICO, DISEÑO DE INTERIORES, DISEÑO DE MODA, DISEÑO DE PRODUCTO / GRAPHIC DESIGN, INTERIOR DESIGN, FASHION DESIGN, PRODUCT DESIGN





APPLICATION

- AUTUMN TERM: MAY 1


- SPRING TERM: OCTOBER 15

Web
POLITEHNICA UNIVERSITY OF TIMISOARA

TIMISOARA (RUMANÍA / ROMANIA)





DISEÑO DE INTERIORES / INTERIOR DESIGN




APPLICATION

- AUTUMN TERM: MAY 20


- SPRING TERM: NOVEMBER 20

Web
VIAMODA

VARSOVIA / WARSAW (POLONIA / POLAND)





DISEÑO DE MODA / FASHION DESIGN




APPLICATION

- AUTUMN TERM: JULY 1


- SPRING TERM: DECEMBER 1

Web
NATIONAL ACADEMY OF ART - SOFIA

SOFIA (BULGARIA)




DISEÑO GRÁFICO, DISEÑO DE INTERIORES, DISEÑO DE MODA, DISEÑO DE PRODUCTO / GRAPHIC DESIGN, INTERIOR DESIGN, FASHION DESIGN, PRODUCT DESIGN




APPLICATION

- AUTUMN TERM: JUNE 30


- SPRING TERM: NOVEMBER 30

Web
UNIVERSITY OF LIUBLIANA

LIUBLIANA / LJUBLJANA (ESLOVENIA / SLOVENIA)




DISEÑO GRÁFICO, DISEÑO DE MODA / GRAPHIC DESIGN, FASHION DESIGN




APPLICATION

- AUTUMN TERM: MAY 15


- SPRING TERM: NOVEMBER 15

Web
JAN MATEJKO ACADEMY OF FINE ARTS IN KRAKOW

CRACOVIA / KRAKOW (POLONIA / POLAND)





DISEÑO GRÁFICO, DISEÑO DE INTERIORES, DISEÑO DE PRODUCTO / GRAPHIC DESIGN, INTERIOR DESIGN, PRODUCT DESIGN

APPLICATION

- AUTUMN TERM: JUNE 15


- SPRING TERM: NOVEMBER 15

Web
FREDERICK UNIVERSITY

NICOSIA (CHIPRE / CYPRUS)





DISEÑO GRÁFICO, DISEÑO DE INTERIORES, DISEÑO DE MODA / GRAPHIC DESIGN, INTERIOR DESIGN, FASHION DESIGN




APPLICATION

- AUTUMN TERM: MARCH 30


- SPRING TERM: NOVEMBER 30

Web
BIRMINGHAM CITY UNIVERSITY

BIRMINGHAM (REINO UNIDO / UNITED KINGDOM)




DISEÑO GRÁFICO, DISEÑO DE INTERIORES, DISEÑO DE PRODUCTO / GRAPHIC DESIGN, INTERIOR DESIGN, PRODUCT DESIGN




APPLICATION

- AUTUMN TERM: MAY 31


- SPRING TERM: OCTOBER 31


Web
SCHOLASTIKA

PRAGA / PRAGUE (REPÚBLICA CHECA / CZECH REPUBLIC)





DISEÑO GRÁFICO, DISEÑO DE PRODUCTO / GRAPHIC DESIGN, PRODUCT DESIGN

APPLICATION

- AUTUMN TERM: JULY 15


- SPRING TERM: NOVEMBER 30

Web
UNIVERSITÀ IUAV DI VENEZIA

VENECIA / VENICE (ITALIA / ITALY)




DISEÑO GRÁFICO, DISEÑO DE INTERIORES, DISEÑO DE MODA, DISEÑO DE PRODUCTO / GRAPHIC DESIGN, INTERIOR DESIGN, FASHION DESIGN, PRODUCT DESIGN




APPLICATION

- AUTUMN TERM: JUNE 30


- SPRING TERM: OCTOBER 30

Web
L'ÉCOLE DE DESIGN NANTES ATLANTIQUE

NANTES (FRANCIA / FRANCE)




DISEÑO GRÁFICO, DISEÑO DE INTERIORES, DISEÑO DE PRODUCTO, MASTER EN DISEÑO DE VIDEOJUEGOS / GRAPHIC DESIGN, INTERIOR DESIGN, PRODUCT DESIGN, MASTER PROGRAMME IN VIDEO GAMES DESIGN





APPLICATION

- AUTUMN TERM: MAY 15


- SPRING TERM: NOVEMBER 15

Web
SAVONIA UNIVERSITY OF APPLIED SCIENSES

KUOPIO (FINLANDIA / FINLAND)




DISEÑO DE INTERIORES, DISEÑO DE MODA, DISEÑO DE PRODUCTO / INTERIOR DESIGN, FASHION DESIGN, PRODUCT DESIGN





APPLICATION

- AUTUMN TERM: MARCH 31


- SPRING TERM: OCTOBER 31

Web
UNIVERSIDAD AUTÓNOMA DE SINALOA

SINALOA (MÉXICO)



NO ERASMUS+

Web
RENAISSANCE UNIVERSITY

INDORE (INDIA)




NO ERASMUS+


Web
UNIVERSIDAD DE MONTERREY

MONTERREY (MÉXICO)




NO ERASMUS+


Web
VILNIUS COLLEGE OF TECHNOLOGIES AND DESIGN

VILNA / VILNIUS (LITUANIA / LITHUANIA)




DISEÑO GRÁFICO, DISEÑO DE INTERIORES / GRAPHIC DESIGN, INTERIOR DESIGN





APPLICATION

- AUTUMN TERM: JUNE 15


- SPRING TERM: DECEMBER 15

Web
MUNSTER TECHNOLOGICAL UNIVERSITY

CORK (IRLANDA / IRELAND)




DISEÑO GRÁFICO / GRAPHIC DESIGN





APPLICATION

- AUTUMN TERM: APRIL 30


- SPRING TERM: OCTOBER 31

Web
PEDAGOGICAL UNIVERSITY OF CRACOW

CRACOVIA / KRAKOW (POLONIA / POLAND)





DISEÑO GRÁFICO, DISEÑO DE INTERIORES, DISEÑO DE PRODUCTO / GRAPHIC DESIGN, INTERIOR DESIGN, PRODUCT DESIGN

APPLICATION

- AUTUMN TERM: MAY 15


- SPRING TERM: NOVEMBER 30

Web
ISIA PESCARA DESIGN

PESCARA (ITALIA / ITALY)


DISEÑO DE PRODUCTO, DISEÑO GRÁFICO / PRODUCT DESIGN, GRAPHIC DESIGN


APPLICATION

- AUTUMN TERM: AUGUST 12


- SPRING TERM: JANUARY 13
Web
UNIVERSITY OF ART AND DESIGN IN CLUJ-NAPOCA (UAD)

CLUJ-NAPOCA (RUMANÍA / ROMANIA)




DISEÑO GRÁFICO, DISEÑO DE INTERIORES, DISEÑO DE MODA, DISEÑO DE PRODUCTO / GRAPHIC DESIGN, INTERIOR DESIGN, FASHION DESIGN, PRODUCT DESIGN


APPLICATION

- AUTUMN TERM: JUNE 15


- SPRING TERM: NOVEMBER 15

Web
BIRUNI UNIVERSITY

ESTAMBUL / ISTANBUL (TURQUÍA / TURKEY)




DISEÑO DE INTERIORES / INTERIOR DESIGN





APPLICATION

- AUTUMN TERM: JUNE


- SPRING TERM: JANUARY 
Web
ISEC LISBOA

LISBOA / LISBON (PORTUGAL)




DISEÑO GRÁFICO / GRAPHIC DESIGN





APPLICATION

- AUTUMN TERM: JUNE 30


- SPRING TERM: NOVEMBER 30

Web